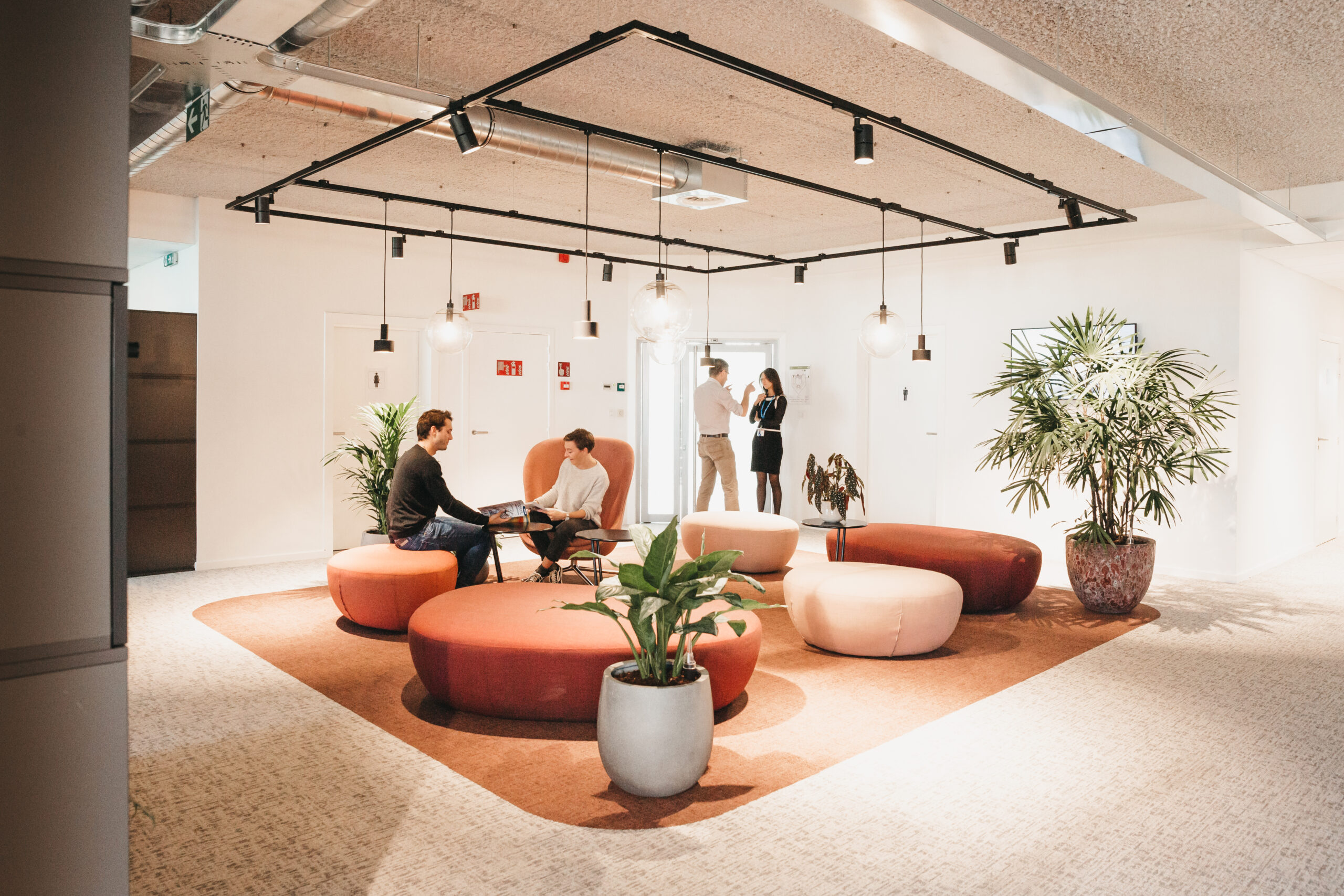 Design is a plan for arranging elements in such a way as best to accomplish a particular purpose. Charles Eames - Designer and Architect
Workplace Catalogue of Situations
In a workplace that offers a variety of spaces that support different ways of working, employees can tailor their work experiences to best fit their needs.
Being able to choose from a variety of spaces to suit a particular work situation improves productivity and comfort by encouraging movement and collaboration. Apart from the use and size of spaces, another factor contributing to the diversity of workspaces is character. It is formed by materials used, colours, proportions, type and temperature of lighting, furniture type, etc. Depending on the task to be carried out, some spaces must have a calm and introspective character, while others, can be live and invigorating.
The environment should be designed to be sensory inclusive, with neurodiversity in mind. The goal is to reduce the potential for sensory overload and offer a space for respite when needed.
Think of each one of these spaces in their entirety, having the interplay of all architectural elements in mind. Avoid a design solution that fits all. Design different functional spaces with changing ambiances following typological criteria to achieve a balanced mix. Do not follow an eclectic design approach. The Workplace Catalogue of Situations guideline was created to help in the development of meaningful workplace strategies that boost productivity and make a more efficient use of resources. The main objectives are: putting the customer first, incorporating different work patterns, adapting to changes on demand, and optimizing occupancy costs and space requirements.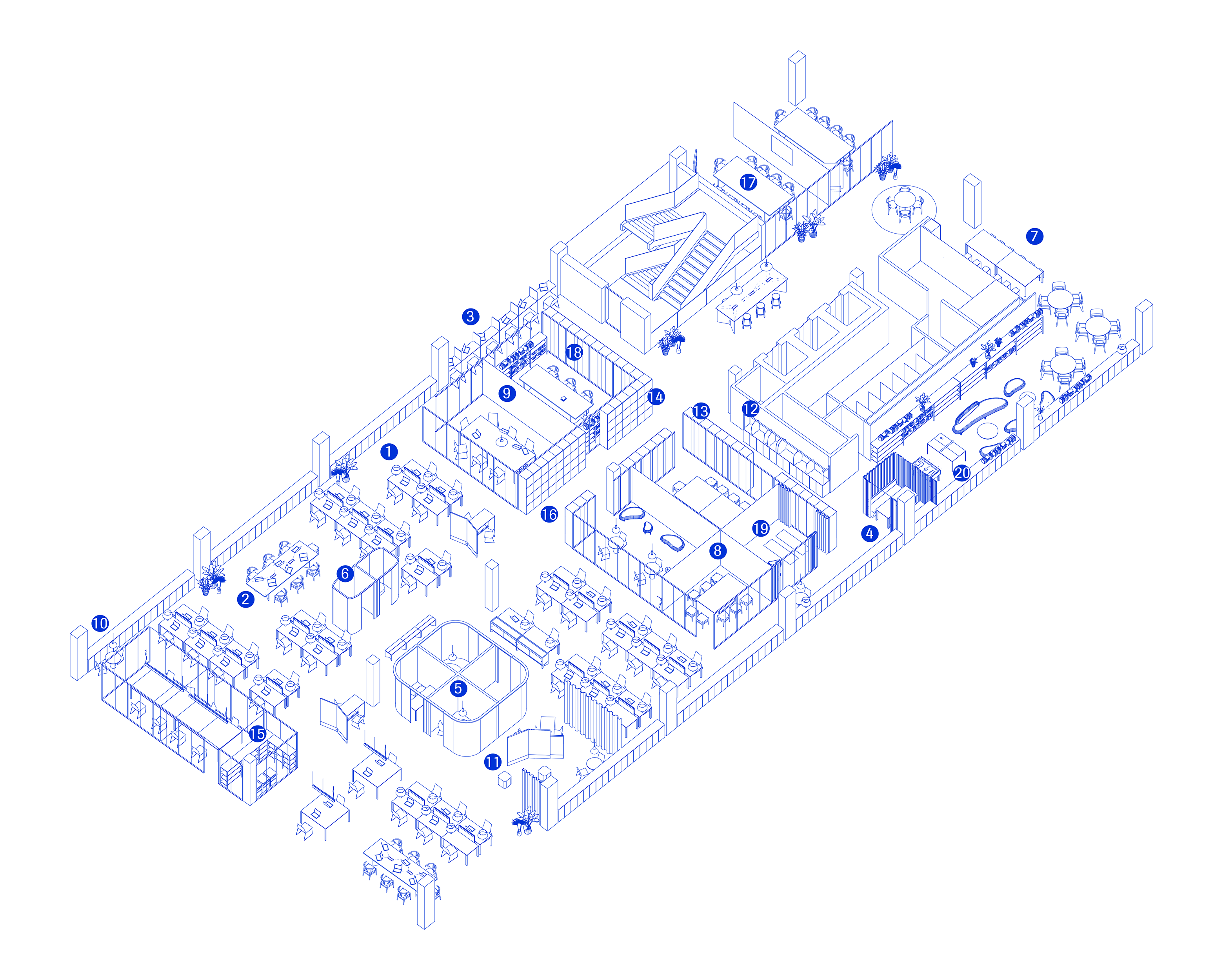 SE1 Open Work Floor Area
Work desk
Workbench
SE2 Semi-Open Work Floor Area
Touchdown
Dinner Booth
SE3 Enclosed Work Floor Area
Focus Room
Phone Room
SE3 Local Support
Break & Pantry Area
Small Meeting Room
Large Meeting Room
Small Open Meeting
Large Open Meeting
Filing Space
Coats & Storage
Lockers
Print & Copy Area
SD1 Horizontal Circulation
Corridor
SD2 Central Support
Central Conference
Library / Quiet zone
Meditation Room
Games Area/Room
To achieve an efficient spatial organization that improves productivity and provides comfort to users, the diverse situations that take place are classified by work type. Each type of work is defined by the levels of interaction, concentration, and privacy that are required to perform a certain task.
Individual Work: for quiet individual general tasks
Focus Work: for individual high concentration tasks
Group Work: for formal prescheduled gatherings with colleagues
Creative Work: for impromptu co-creation and ideation with colleagues
Repetititve Work: for general day-to-day tasks
Down Time and Social Interaction: for relaxation or social gatherings
Key take aways
Interpret the Workplace Strategy as a functional base for the workplace design.

Promote variable placement of workstations and alternative work settings.

Ensure adequate space circulation, and take orientation into account.

Offer a diversity of spaces ranging in size and character.
Avoid one solution that fits all.

Design different functional spaces with changing ambiance that follows typological criteria in order to achieve a balanced mix.

Reduce potential for sensory overload by offering spaces for respite.

Avoid an eclectic design approach.